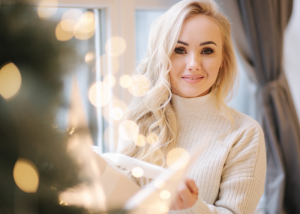 If you believed everything you saw on social media, the world would have you think that the holidays are sugar plums and candy canes for everyone and that they are always filled with joy and happiness.  However, we know that is not always the truth. Experts agree that the holiday season can, unfortunately, be filled with a great deal of strife, especially for families going through a divorce.
One of the culprits of stress for a divorced family during the holiday season is that one of the parents may be spending the holidays alone without their children.  This can be very painful for that parent, especially in the first few years.
Our collaborative divorce mediators suggest that couples work out the holiday sharing schedule while the divorce agreement is drafted.  That way the parents be clear on the holiday schedule going forward and the children will know in advance, where they will be spending the holidays.
Here's what our team suggests to our clients to help them get through the experience of being alone during the holidays:
Acknowledge your feelings and speak with someone – family, friends or a mental health professional can all provide support
Make plans for the holiday – find a place to go or invite people over to your house.  Either choice is better than feeling sad and alone at home
Focus on finding the joy within the chaos and it's okay if you put aside the divorce process during the holidays
Remember self-care  – taking care of one's self is essential to healing
Give back to others – volunteering is a great way to put your sadness aside and help others
The holidays don't have to be a blue time, especially when you find ways to make yourself happy.
Our divorce mediators at Peace Talks work with you to explore options, get the information you need to make good decisions, and assist both of you in reaching an agreement while keeping both parties in control over their future.
Get started with our Divorce Mediation Quick Start FAQ or contact us today to speak with us personally or schedule a free mediation orientation (310) 301-2100.
Note: This information is general in nature and should not be construed as legal/financial/tax advice. You should work with your attorney, financial or tax professional to determine what will work best for your situation.