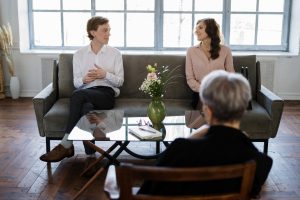 Our team at Peace Talks has worked with many couples who are struggling in their marriage for various reasons and are looking to divorce or separate.
We are often asked, what are the most common reasons for divorce, and you know what?  We have couples divorce for so many reasons; but these seem to be the most common:
Extramarital affair brought on by anger and resentment
High expectations that neither spouse can reach
Constant arguing without stopping
Financial woes
Loss of a desire to keep trying to work areas of friction out
Lack of equality
Emotional and physical abuse
Demeaning situations that continue to arise
Marriage and/or pregnancy at an early age
Religious differences
But with these reasons, we also find that the root of the issue is often due to a breakdown of communication, and it's just not about the final straw that broke the camel's back.
Often at the beginning of a marriage, spouses will find that they will argue and then makeup. But over time, one spouse gets tired of trying, tunes the other person out and looks outside of their marriage for love, equality and companionship.
The majority of couples we have worked with have found that mediation and communication helped their marriage situation in many ways, even if it was on the brink of divorce.
Peace Talk mediators are an excellent team of moderators. They are dedicated to the practice of mediation as the preferred method of resolving disputes.
At Peace Talks, our co-mediation teams of attorneys and therapists craft a settlement that works for you and your family. Our divorce mediators work with you to explore options, get the information you need to make the right decisions and reach your own agreements, keeping you in ultimate control over your future.
Get started with our Quick Start FAQ or call to speak with us about scheduling a free mediation orientation (310) 301-2100.
Note: This information is general and should not be construed as legal/financial/tax advice. You should work with your attorney, financial, or tax professional to determine what will work best for your situation.