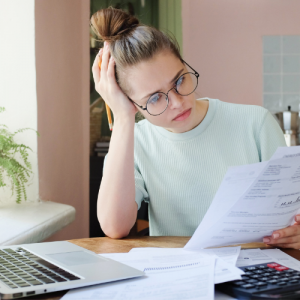 When you find yourself getting ready to start down the road of divorce there are many factors to consider.  One of which, is the tremendous financial impact a divorce could have on you and your spouse.
Peace Talks often sees couples who have complex financial landscapes and it can be challenging to untangle it.  However, with the collaborative divorce process, we utilize a non-adversarial, no court, no litigation approach. By working within this framework along with a neutral financial mediator,  the divorce process not only takes less time, but it costs a great deal less than a traditional court divorce.
At the beginning of divorce many couples are unsure of what the division of assets will look like in the final agreement.  Here are the areas that are mostly impacted:
Taxes – filing status, deductions and tax credits can be greatly impacted
Shared Debt –  each person will still be responsible for this
Alimony and child support –  will impact your financial picture
Financial income streams, debt, investments, retirements and assets
In order to get the full picture of you and your spouse's financial landscape, make sure to educate yourself about what makes up your entire financial portfolio. It important to think with your head and not your heart – remember – cool heads always prevail!
At Peace Talks, our team of experts focus solely on mediating family law conflicts. We are a full-service mediation firm that specializes in helping people in Southern California settle their divorce in a sane and sensible manner.
We begin by helping you articulate your financial needs, concerns, and objectives. Then, we help you identify accurate values for your assets, debts, income streams and expenses.
Whether you are getting divorced, planning your estate or negotiating a premarital agreement, our team of experienced, skilled divorce mediators and family law mediators will create practical solutions to difficult financial situations.
Contact us today to see how we can help you navigate through your finances in a civil co-operative environment!
Note: This information is general in nature and should not be construed as legal/financial/tax advice. You should work with your attorney, financial, or tax professional to determine what will work best for your situation.