There are thousands of events across the country scheduled for Saturday to give people a chance to make a statement about the administration's approach to handling requests for asylum.  Here are a couple of familiar names that are encouraging people to add their voices and signs:
America Ferrera
"Seeing thousands of immigrant families torn apart, I am devastated and beyond furious."
Alyssa Milano
"I believe that what this administration is doing at the border is a "crime against humanity," and it is on us to stop it."
Make sure you and everyone you know has signed up to take action this Saturday, June 30th by sharing this image on Facebook: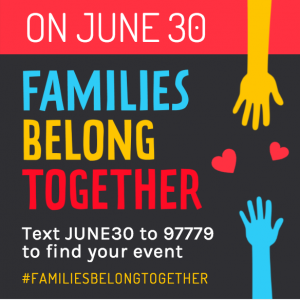 Join me on June 30 in Washington, D.C., or in a city near you to demand an end to this disgusting family separation policy.
I will pass along any information about special funds for the benefit of the families affected by the MD shootings. Hopefully we will figure out a better way to do things…soon.