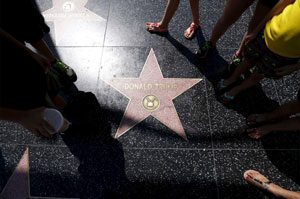 This is something that has been bugging o lot of people in Los Angeles and now seems to be a great time to let the Mayor hear your voice.
The marker has been pummeled by a pickax and a sledgehammer, but now the West Hollywood City Council has voted to remove President Trump's star from the Hollywood Walk of Fame.
The council will send a formal letter to Los Angeles Mayor Eric Garcetti, the Los Angeles City Council and the Hollywood Chamber of Commerce to consider removing it.
But, according to a statement from the chamber, it's unlikely it will act.
"The Hollywood Walk of Fame is a registered historic landmark. Once a star has been added to the Walk, it is considered a part of the historic fabric of the Hollywood Walk of Fame. Because of this, we have never removed a star from the Walk," said Leron Gubler, the organization's president and CEO."
The resolution disagreed:
"Having a 'star' on the Walk of Fame is a privilege that is highly sought after by those in the entertainment industry, allowing Mr. Trump to continue to have a star in light of his behavior toward women, particularly in the #timesup and #metoo movements, should not be acceptable in the Hollywood and entertainment industry communities,"
Because the Walk of Fame, which holds 2,500 stars, is the property of the City of Los Angeles, the city has the final decision."
Here is where you can let the Mayor know how you feel:
mayor.garcetti@lacity.org
From Mark Moore of the New York Post read original article here