The Best Way to Start Your Divorce – A Divorce Mission Statement
A Divorce Mission Statement
Have you thought about how you want your divorce to go? What's your ideal resolution? Do you see a clear winner or loser?
Divorce is one of those areas where the questions you have now will almost always lead to even more questions. One thing you can do to exercise control though is write a mission statement. A divorce mission statement.
You read it right. In divorce mediation, a mission statement for your divorce is your compass guiding you away from controversy and toward peace.
The first step is to decide what you want at the end of this process and to spell it out. You'll need to set goals at the outset so you'll be able to stay on course when things aren't going your way. There will be temptation to behave badly during your divorce. Your mission statement will keep you focused.
There is a huge distinction between what's important and what's urgent. We're often drawn toward the next most urgent thing, but often it's really not important, at least not to the goals you've set for yourself. There will be many tempting distractions during your divorce. Your mission statement will keep you on track.
As you move toward your settlement, life can get chaotic. You could easily end up spending your days with activities that seem to require your immediate attention but which have nothing to do with your short or long term goals. When you take the time to think about and craft a mission statement that suits you, it reduces stress and suffering. It points you in the direction of living in a way that you know will make you proud of yourself.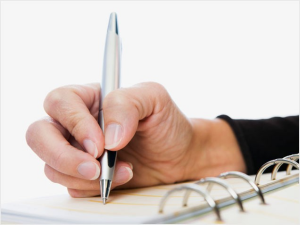 Living your mission statement doesn't necessarily mean a complete overhaul of your personality. Don't get bogged down in thinking you could've saved your marriage had you done something like this earlier. You're doing it now, and that's what counts. The past is the past and it doesn't matter now how you got here. If how you got here is of real concern to you, consider addressing the issue with a professional counselor, your doctor, or a support group. This is about moving forward and making sure your thoughts and behavior are in line with what you deeply care about. This will make it much easier and much less scary to let go of things which pull you off track.
You may want to re-write this mission statement periodically and reassess your goals throughout the process. That's not only okay, it's encouraged. Life is a work in progress. You will change a lot during this process, and embracing the change in a positive way will help insure that you emerge happy, healthy, and whole.
Your divorce mission statement will serve as a reminder of who you want to be at the end of your divorce. Keep it handy. You will need these reminders when things get tough. The hard work of staying in touch with your mission, and realigning your behaviors to fit with your mission, will be worth it.
Most everyone we work with in our divorce mediation practice finds that creating a divorce mission statement had a significant impact on the course of their divorce. It's a big first step, so when you're done, take the time to congratulate and reward yourself. You actually wrote down your core values and are headed toward them. Rally yourself to forge ahead. You can do this.
Diana Mercer is an Attorney-Mediator and the founder of Peace Talks Mediation Services, peace-talks.com. She is the co-author of Making Divorce Work: 8 Essential Keys to Resolving Conflict and Rebuilding Your Life (Penguin/Perigee 2010), Your Divorce Advisor: A Lawyer and a Psychologist Guide You Through the Legal and Emotional Landscape of Divorce (Simon & Schuster/Fireside 2001) and 8 Simple Keys to Building and Growing Your Mediation or Arbitration Practice (Peace Talks Press 2011). Diana also writes for the Huffington Post as well as her own blog Making Divorce Work.