In response to the recession, Peace Talks now offers a couple of new services.
I hope you'll keep us in mind if you come across couples needing either of the following:
1) $995 paperwork only service: for couples who already have an agreement and who just need the paperwork, we'll do all of that for $995. This is no mediation time, no contact with an attorney or mediator….just my paralegal who will do the intake and all the paperwork. She is also a trained mediator and is able to handle minor things that come up, but Plan A is that people already have an agreement.
As a practical matter, an attorney drafts the "important parts" of the Judgment. I also supervise and proofread.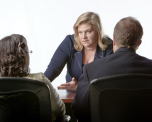 2) A sliding fee scale:
This is for clients who need mediation time and our attorney-mediator + therapist-mediator team, but who legitimately aren't in a position to pay our full fee:
Sliding Scale Service Agreement: To qualify for a reduced rate, you and your spouse must have $100,000 or less in combined gross income and less than $200,000 in net assets.
Sliding Scale Rates:
Mediation time: $395 per hour (almost a 40% discount)
Petition and Response flat fee: $250
Judgment Package flat fee: $995