Mediate Family Law, Don't Litigate!
Here at Peace Talks, we love Mediation. If you've spent any time looking through our site and blog posts, you know that already. It's an easy sell, because, to us, it's a no-brainer.
Just look at a recent example: one couple came into our Los Angeles office looking to get a divorce settlement through mediation. Divorce in California can be tricky, there are divorce laws and fee schedules that can get complicated, not to mention courts are overcrowded to the point where some Judges are seeing over 30 cases a day! Their case was particularly bad. They had been in court for months, to the tune of $100,000 and had made ZERO progress!
At Peace Talks Mediation Services we want to get your case settled as quick and painless as possible to get you on your way to your new life. That's what we care about.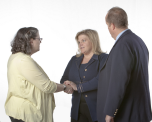 Sure we're a business, but we also have a vision. We realize divorce is something no one wants to go through. It's scary and intimate and can bring out the worst in people. We understand, but we reject the notion that it has to be this way.
If we can help people get settled for as little money and hoopla as possible, but be fair and leave you with the confidence to go on with your lives, we've done our jobs.
Oh yeah, and that client? The one who had $100,000 invested in a litigated divorce and had enough? In and out of Divorce Mediation to the tune of $4,000. To get an idea of the cost of divorce mediation vs. litigation, check out the chart on our website. There's also a great list of pros and cons of mediation vs. litigation.
So whether you are going through divorce, custody, family law, alimony, child or spousal support, come take part in the Divorce Mediation and ADR (Alternative Dispute Resolution) Revolution. Here are a few of our favorite reasons why mediation is better than going to court:
1. It's cheaper – Duh. In real numerical terms, it's over 90% less expensive, on average, than going through litigation.
2. You decide the schedule. It'll go as quick or as slow as you want it to go. It's your decision, not the court's.
3. It will preserve your relationship. Eliminate that added stress and negative energy of a contentious divorce. You don't want to always be thinking "what if I run into him?" at the store or at the gym. Especially if you have kids, it's important to keep that familial bond.
4. It's more child-friendly than any court option. You care about your kids and so do we. Mediation will teach them that Mommy and Daddy can work things out with respect and understanding.
More on kids: I was talking to a child psychologist the other day, and they were telling me how easy it is to avoid behavior problems after divorce. Her advice: Be An Example. There is a direct correlation to how kids do after divorce and the amount of conflict between their parents. Mediation helps you avoid conflict. Even clients that come into our offices thinking they have it all figured out often have layer upon layer of conflict waiting to rear its head in our sessions. We help them get through it. That's what we're here for.
Each session is molded to your specifications and to your unique situation. We never have a set agenda, it's what YOU want, not us. We have even implemented a sliding-fee scale. Contact us and we will review your case to see if you are eligible. It's "Divorce Made Easy." We want our services to friendly and affordable, the opposite of what most divorce attorneys in Los Angeles provide. Remember, don't litigate…MEDIATE!