Protect Your Children: Get a Will!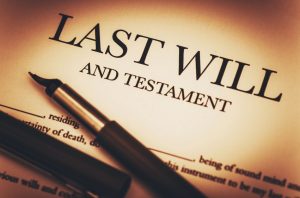 While many of us may believe that estate planning is only for the rich or the elderly, you should know that this process is essential if you have children. At Peace Talks Mediation, not only do we help you with divorce mediation, but we also recommend how you can protect your most precious "possessions" your children. As we advocated in our previous blog, "If You Have Children, You Should Get a Trust!", we now recommend you to get a will too. These two estate planning vehicles, a trust and a will, work together to protect and provide for your children in the event that you come to an untimely demise. Peace Talks Mediation encourages you to do the responsible thing: Get a Will!
Making a will is essential for people with young children because a will is the best way to transfer guardianship of minors. This means that you decide who you wish to raise your children if you are unable to do so, not a probate judge. Once you draw up a will with your estate-planning advisor, you may amend your will at any time. In fact Peace Talks thinks it's a good idea to review it periodically. This is especially true if your marital status changes which can be peacefully and sanely accomplished through divorce mediation at Peace Talks.
As previously mentioned, a will is usually done at the same time that you create a trust. A trust is a legal mechanism that lets you put conditions on how your assets are distributed after you die, and it often lets you minimize gift and estate taxes. A will is still necessary because most trusts deal only with specific assets such as life insurance or a piece of property, but not the sum total of your holdings, for example distributing your jewelry or family artifacts. Additionally, the most valuable things that you leave for your children may not have any monetary value. These are the traditions and life lessons that define you as part of your own unique family. Peace Talks suggests the use of Ethical Wills, which are non-binding documents that allow you to pass on these intangible treasures to your loved ones.
Peace Talks wants to share some additional tips with you. You may prefer not to keep your original will in your safe-deposit box because some states will seal your box when you die and not allow it to be opened until the estate has been settled. Clearly, settling your estate is much easier with the original will being available. We suggest that you keep a copy of your will in your safe-deposit box, but give the original to your lawyer or place it in a fireproof box at your home or in your office. With the invention of the cloud, you are even able to scan all your important financial paperwork and keep a virtual copy of this material within a secure web site. It's also essential to share the location of your trust and will as well as access to these documents with close family members, so that in the event of an emergency they will be able to obtain this vital information. Here at the California Peace Talks Office, we know that there is a potential for a disastrous earthquake. If all your estate documents were destroyed, a virtual copy of everything would be helpful to have.
Keep in mind that no one knows and loves your children like you do. By doing the type of estateplanning that Peace Talks has described, you are in control of making the decisions that are in the best interests of your children, especially appointing a guardian for them. And Peace Talks divorce mediation believes, isn't that the way it should be? So get a will! Please give us a call to explore our mediation services at (310) 301-2100.